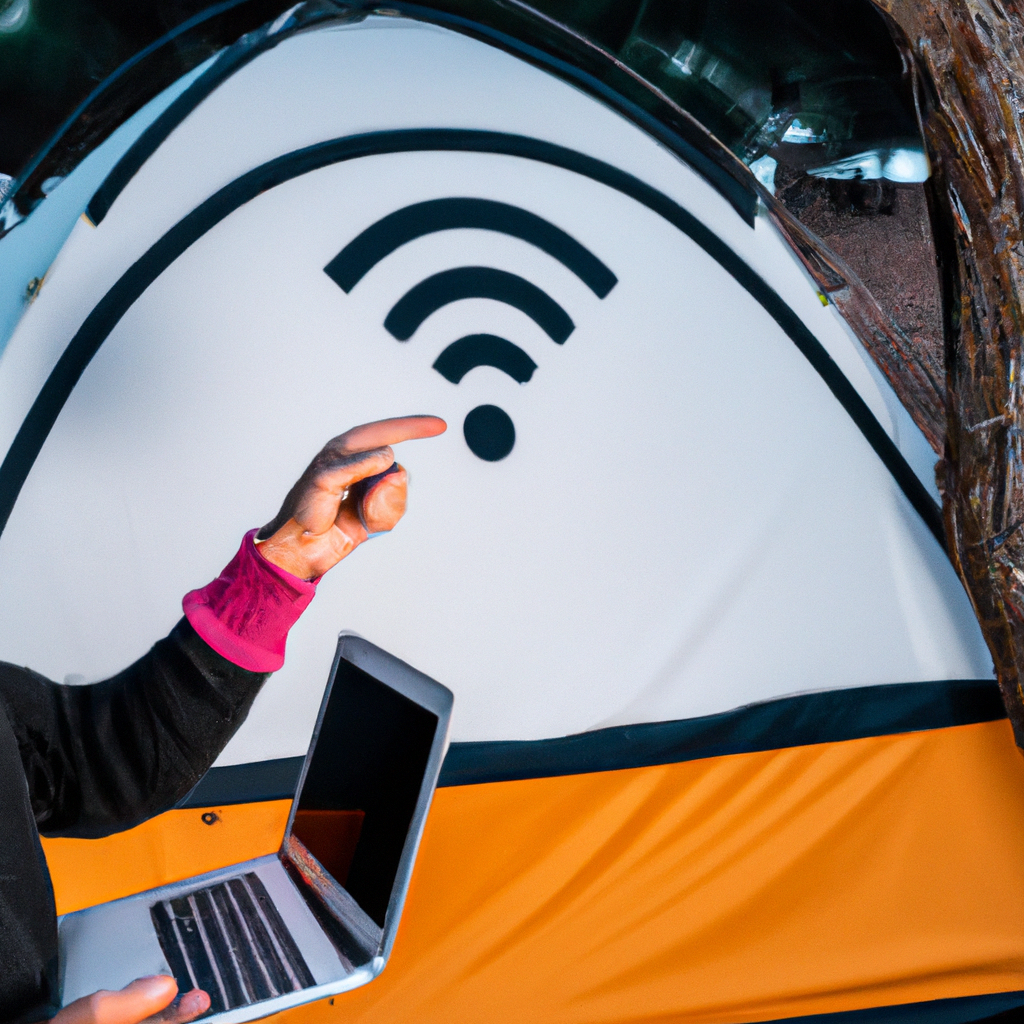 Identify Your Needs
Wi-Fi for camping and RV? Know your needs first. What type of connection? What speed? How much to spend? Figure it out. Then begin the search for the best fit!
Determine the type of Internet connection you need
Before you start searching for a Wi-Fi device or plan, take a minute to decide what type of Internet connection you need.
Temporary: If you plan on camping or RVing for a short time, a temporary setup such as a hotspot device or AT&T's Unlimited & More package may be ideal.
Broadband: Broadband connections are more reliable than temporary solutions but usually cost more. They come in both fixed and wireless types and can allow for fast downloads and uploads of large files like streaming video.
Satellite: Satellite internet uses satellite dishes and receivers to provide high-speed internet from remote locations without wires. This is more expensive than other options and has data usage limits, but is great if you frequently RV in remote areas with poor or no coverage.
Mobile Routers: Mobile routers use cellular networks to connect your RV to the Internet. They often have features for multiple people to connect at once and 5G LTE speeds. However, most packages limit your data usage with extra fees once you exceed the limit, so it's important to know what you need before committing to one of these plans.
Consider the number of devices you need to connect
Consider the devices you need to connect when choosing a Wi-Fi resource for your camping or RV needs. You may only need one connection, or you may need multiple connections. Depending on the size of your RV or camper, you might require extra coverage from multiple sources. Some wireless networks let you create "guest networks" that give you control over which devices access your connection.
Once you know how many devices need internet access, pick a plan that best fits your needs. There are many providers offering mobile and static service. Many campsites provide hookups with antennas. If you plan on staying in one place while travelling, plans are available for RVs and campers that provide secure Wi-Fi paths with range extenders and universal repeaters.
If cost is a factor, use one of the public Wi-Fi hotspots found at local restaurants, retail outlets, etc. Be aware public hotspots usually come with limited bandwidths, so not everyone's device can connect without a limit on bandwidth per user or connection time limits.
Research Wi-Fi Hotspots
Searching for Wi-Fi for camping or RVing? Hotspots are everywhere! Research to locate one that fits your needs. It'll give you a trusty connection if you're close enough. Get ready to explore the available hotspots and how to utilize them. Let's go!
Look for public wi-fi hotspots
Researching Wi-Fi spots beforehand is a must. You can find them online in databases. Most libraries offer access to their Wi-Fi for free – maybe you need a pass or card. Some libraries even have special programs for campers and RV-users.
Towns and cities provide free visitor hotspots in parks, city centers, and other public places. Look for signs that show Wi-Fi is available. Passwords are usually on the signs.
Hotels, motels, restaurants and cafes offer access to their Wi-Fi networks while you use their services or stay in their rooms. If public Wi-Fi doesn't work, you can:
Buy a prepaid plan from a service provider.
Use your smartphone's mobile data for temporary internet connection.
Consider using a mobile hotspot
A mobile hotspot is a Wi-Fi access point you can access over a mobile phone network. It's great for those who need to stay connected on the move or don't have access to other Wi-Fi networks. Different carriers offer different packages for travelers. So, if you travel a lot, check out the best plan for you.
Mobile hotspots come in various forms like routers and sticks. They're lightweight and easy to take camping or RVing. Benefits include portability, plus no complicated software installation. They also provide better coverage due to the ability to pull signal from multiple cell towers. So, even in weak cellular areas, you'll still get strong Wi-Fi.
Before your trip, research internet service providers. Compare prices, features, data throttling limits, and network speeds. Some providers even offer discounts for longer service terms. Finally, remember mobile hotspots usually require credits or prepaid plans. Any unused data usually expires after 30 days. So, use it before then or it will go unused until you renew your plan.
Here are some tips to consider when choosing a mobile hotspot:
Research internet service providers and compare prices, features, data throttling limits, and network speeds.
Look for discounts for longer service terms.
Remember mobile hotspots usually require credits or prepaid plans.
Any unused data usually expires after 30 days.
Consider Wi-Fi Extenders
Camping and RVing? Struggling to stay connected? Don't worry! Wi-Fi extenders are here to save the day. What are they? A Wi-Fi extender takes an existing Wi-Fi signal and boosts it, giving you a bigger range. So, you can stay connected even when outdoors.
Let's explore how Wi-Fi extenders work.
Understand the different types of wi-fi extenders
When it comes to Wi-Fi for your mobile home, there are different types of extenders. Range extenders and repeaters extend an existing Wi-Fi connection. Range extenders amplify the signal and repeaters mirror them. Range extenders are more stable but bigger and more expensive.
Mesh networking nodes use multiple interconnected routers. They draw more power and have high coverage. Google WiFi and Eero Home Mesh Wi-Fi Systems are examples.
RVers can travel in style with dependable internet access. With mesh networking, there is no extra cost because it is built into the RV setup.
Consider the range of the wi-fi extender
When you're looking for a Wi-Fi extender for camping and RV needs, you need to think about range. It depends on where you are, if you need a Wi-Fi extender with a higher range.
Usually, Wi-Fi extenders have 100m (328ft) of coverage in open air without walls or metal. But, when there are obstacles, it can decrease. Especially, if you have lots of trees or rocks that interfere with signals. You need to know how far Wi-Fi will reach for the right equipment.
If you don't know how far your signals will reach, try online configuration tools. They give you an idea of where the signals will cover. And, you can change or add hardware if needed. Also, check the speed ratings before buying. Fast speeds make streaming and big downloads easier.
Choose a Wi-Fi Plan
Camping and RV trips need Wi-Fi! You need it to get on the internet, plan your route, read reviews about campgrounds and stay in touch with family. So, pick the right plan. Here's a look into the different types of plans. Plus, the pros and cons and what to look for in a Wi-Fi plan.
Compare different wi-fi plans
Choosing the right Wi-Fi plan for camping and RV use depends on your needs. Compare plans based on speed, range, data, compatibility, price and features.
First, compare the speed of each plan to see how quickly you can connect and upload/download content. Check the range too—how far is your device from towers? What might slow down speed or connection?
Second, look at the data offered before it runs out. Unlimited plans may be better for streaming music/video during your trip!
Thirdly, ensure compatibility with your current devices and services. Each device is different and may need a stronger signal.
Fourthly, compare prices and features. Expanded coverage areas may be worth paying more for. Finally, check for any special offers to save money when signing up!
Consider the cost of the plan
When selecting a Wi-Fi plan for camping and RV, cost is important. Consider paying a higher data tier. Connection speeds and reliability can be different in different places. Wi-Fi plans offering unlimited data or sharing between devices help save money.
When comparing Wi-Fi plans, check any extra fees or time frames. Some providers may require extra fees if you don't use all data in time. Others may have additional charges for faster speeds or more access points. Read the fine print for long-term coverage or device compatibility. These details vary from provider to provider. Take time to shop around for the best deal.
Set Up Your Wi-Fi
Having Wi-Fi can give great ease when enjoying a camping or RV journey. Initially, setting up your Wi-Fi may look overwhelming. But, by following the guidelines in this article, you can get Wi-Fi access while you travel. Let's look at the steps to get your Wi-Fi working!
Research the Wi-Fi options available in the area you are travelling to.
Purchase the necessary equipment for your Wi-Fi setup.
Set up your Wi-Fi router.
Connect your devices to the Wi-Fi network.
Secure your Wi-Fi network.
Follow the instructions for setting up the wi-fi
Before setting up Wi-Fi for camping, choose the best option and ensure you have all the parts. Here is a guide to setting it up:
Pick the service to use. Many RVers use cellular signal, which requires a plan and hardware – like a MiFi signal booster or router – plus antennas and amplifiers. Satellite internet services are an option, but need outdoor antennas pointing to the sky.
Test the connection at home before leaving. Make sure you have a secure internet connection with your chosen hardware or device, and test its speed.
Have all parts ready for setup. You will need a router/signal booster, power supply, cables/adapters/modems, antenna or dish.
Find the spot that will receive the strongest signal from provider (higher ground, away from tall buildings/trees).
Before powering on device, check all cables are securely connected (no loose connections) from any external antennas or satellite dishes (do this outdoors with insulated tools).
Set up security settings such as passwords on router using user manual instructions.
Power on device after all checks are done. Then, connect devices to the internet using cable or Wi-Fi. Run speed tests to check if the speed is satisfactory.
Troubleshoot any problems. Patience can help with a successful setup!
Test your connection to make sure it is working properly
Before you can be sure your Wi-Fi connection is set up properly, it's important to test it. Whether you're using a modem or antenna while camping and RVing, you need to make sure your connection will reach and have the coverage you need. Here are some tests to do:
Check the strength of the modem or antenna by viewing the signal on a device. Log onto the network with a laptop, tablet, or other device and look at its settings. If the Wi-Fi signal isn't strong enough (less than two bars of reception), try moving the router until you get better reception.
Test the internet speed from your provider with online speed tests. Remember, inconsistent connections can make the tests fail. So you may need to run them multiple times for accurate results.
Download a free app such as WiGLE WiFi Network Scanner on Android or NetSpot on iOS. Scan networks for issues and unexpected signals from other networks nearby. This will help you identify any interference which could affect thin signals.
By following these tests, campers can make sure their Wi-Fi connections are working properly before they start their adventures. Also, different country regulations may affect internet speeds in various RV parks and camping locations around the world. So it's great to do research before you go!
Frequently Asked Questions
Trips
Q: How can I get Wi-Fi while camping?
A: Many campgrounds and RV parks offer Wi-Fi access, so check with your campground ahead of time to determine if they provide this amenity. If not, you can purchase a mobile Wi-Fi hotspot device that you can take with you on your camping trip.
Q: What is the best way to get Wi-Fi while camping?
A: If you're staying at a campground or RV park that offers Wi-Fi, that is the best way to get internet access. Otherwise, investing in a mobile Wi-Fi hotspot device and a data plan is the most reliable way to stay connected while camping.
Q: Will my regular cell phone plan work while camping?
A: Depending on your provider, you may be able to use your regular cell phone plan while camping. If you don't have reliable cell phone reception at your campground, however, you may want to invest in a mobile Wi-Fi hotspot device.
How to Get WiFi for Camping and RV